Choose Your Own Adventure
Join us for Cycle 4 St. Joe's on September 26th in celebration of our 100th anniversary!
For the first time, we are offering participants two ride location options in this year's Cycle 4 St. Joe's.
There's something for everyone! Check out the details below and pick a route that works best for you:
Milton/Mattamy Velodrome Start
If you're looking for a structured, marked and supported group ride this is the location for YOU! Route distances include 25km, 50km, 75km and 100km options that take you through the beautiful countryside around Milton and include rest stops to help you fuel up along the way!
Here is what you can expect from the day of programming:
7am - Registration opens
7:30am -100km riders depart
8:00am – 75km riders depart
8:30am – 50km riders depart
9:00am – 25km riders depart
11am –West End's very own Woody's Burgers will be on site to serve lunch
Other onsite activities include: SpiderTech taping by our lead sponsor, beverage tasting by Kensington Brewery, tune-ups provided by Chain Reaction and Queensway Audi outdoor showroom.
West-End Route
Kicking off at the Argonauts Rowing Club on the Lakeshore, the west end ride offers a recreational experience for the whole family. This leisurely ride experience concept is less structured with no formal road closures or specific start times. We will be providing some suggested routes that take you through some of Toronto's west end trial systems for a 10km, 20km or 40km ride option.
Here is what you can expect for the day:
8am-11am - Registration is open and guests are welcome to enjoy some pre ride fuel at the Argonauts Rowing Club located at 1225 Lakeshore Blvd West (On your GPS, please use the address of 1 Net Drive to make your way into the parking lot)
Riders will depart at their leisure to complete our suggested 13km, 26km, or 50km route or ride your own route in the community.
11am-3pm – Woody's Burgers will be on site to serve lunch
1pm – Team Photo on the dock! (Let our photographer capture your team photo on the picturesque dock of the Argonauts Rowing Club)
Other onsite activities include: Massages by Trilogy Physiotherapy.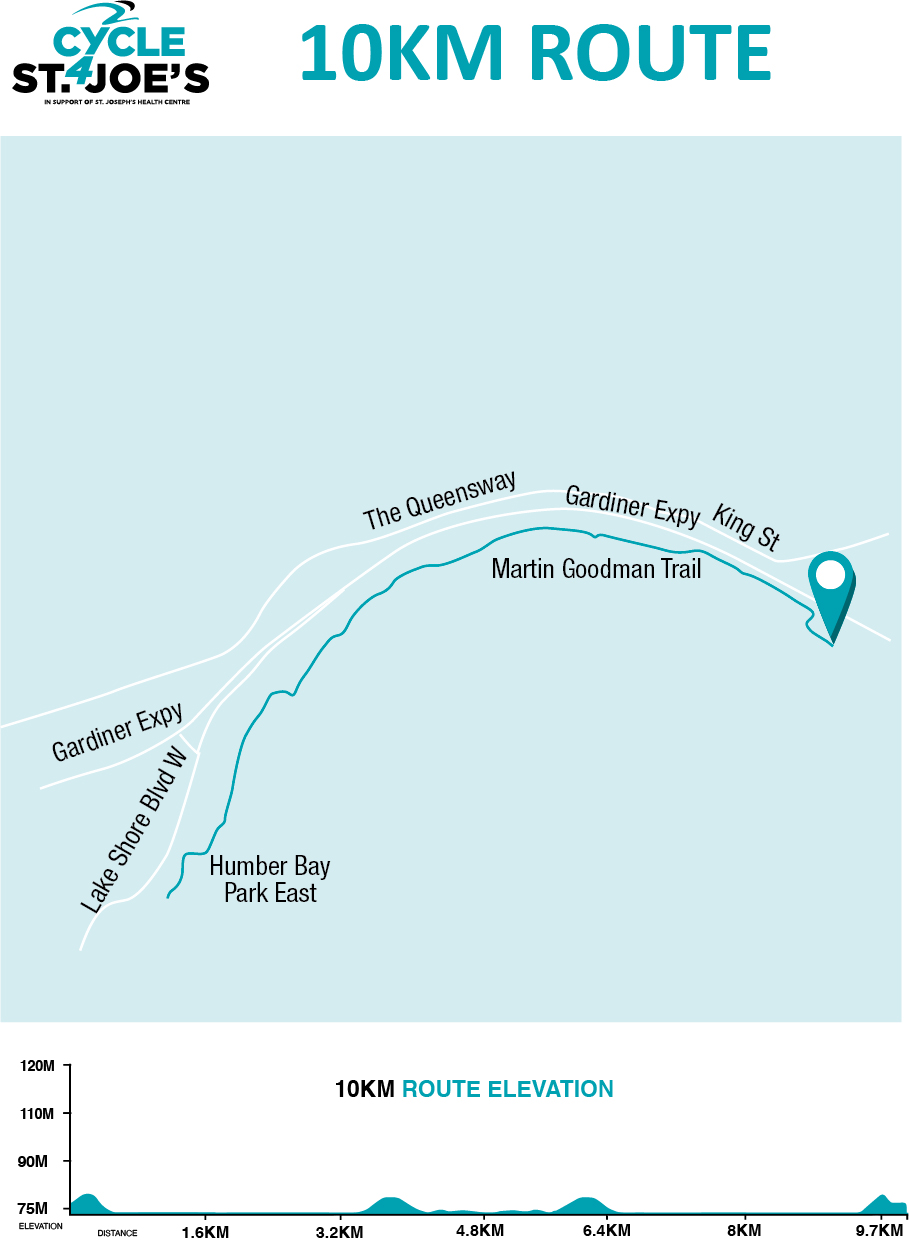 &nbsp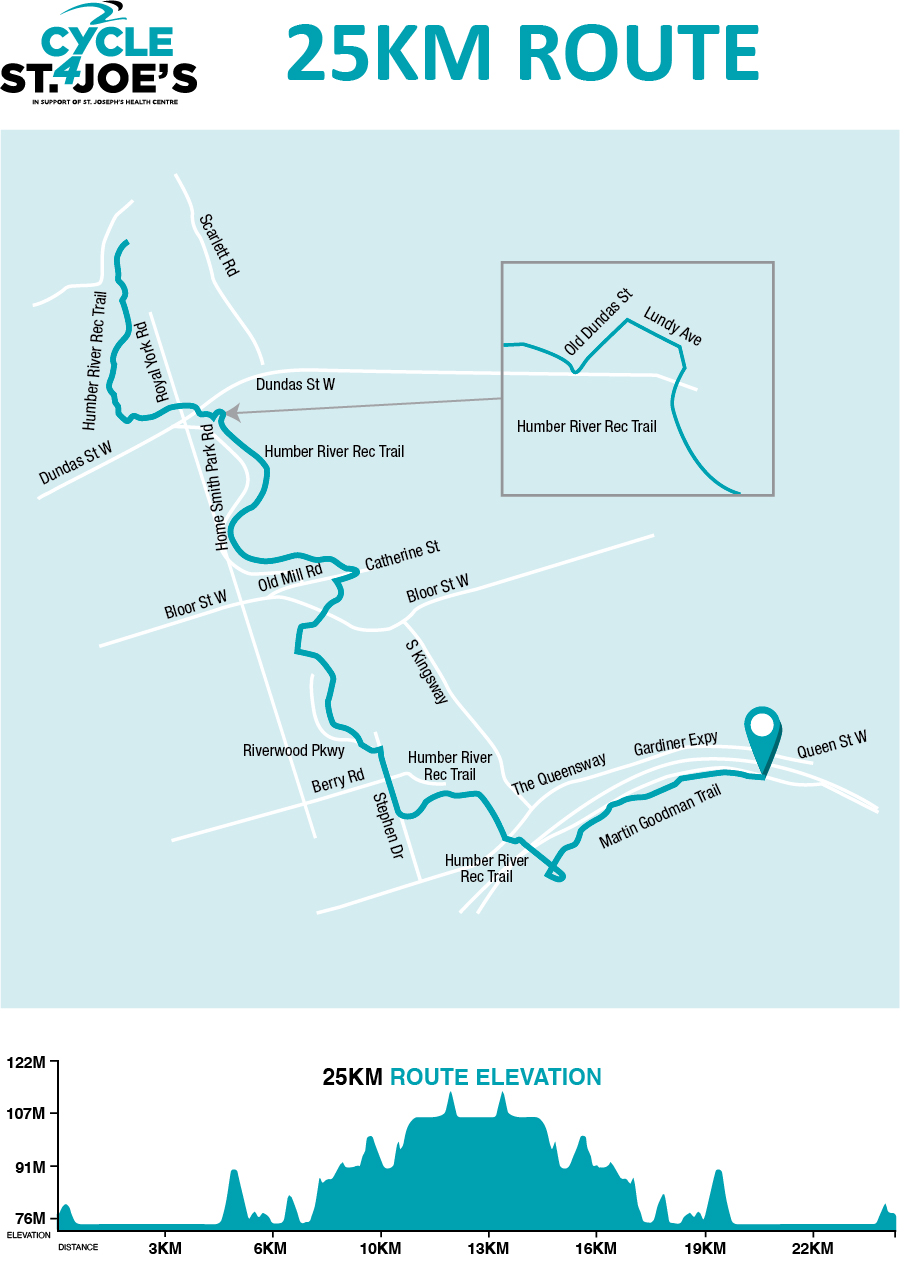 &nbsp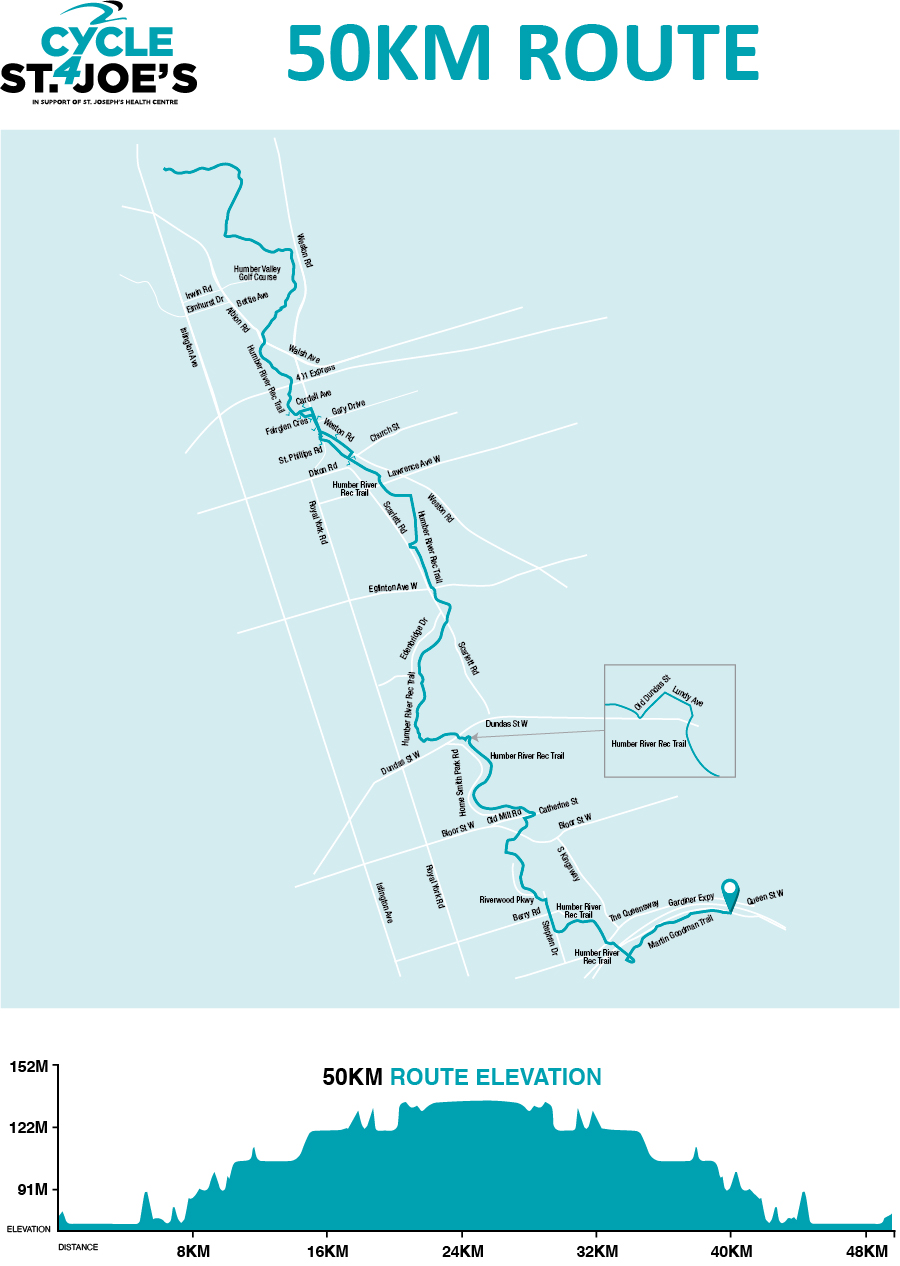 &nbsp
Virtual
Planning to do your ride inside? We have some options for you! Whether you are participating via Zwift, Peloton or your indoor exercise bike, be sure to sync or manually update your Strava account and join the Cycle 4 St. Joe's Strava Club: https://www.strava.com/clubs/683996
Our Cycle 4 St. Joe's Zwift group ride will be taking on Saturday, September 25th, ride details can be found below:
8am:  Zwift Training Ride  (1 hour)

Peter Zissis, one of our Cycle 4 co-chairs, will invite you to the ride ("meetup"). Before Peter can send you an invite to the meetup, you will need to "follow" him on Zwift which you can do through the Zwift Companion App his "Zwifter" name is "PETER ZISSIS (CYCLE4STJOES)".
Join us for a group Peloton class:
Saturday September 25th at 8:00am: 60 min Power Zone Endurance Ride (Instructor: Matt Wilpers)

Tag us! Simply go to your profile page and go to the tag list and search for #cycle4stjoes and add us! If you click on the circle next to the tag name it will show up as your tag on the leaderboard.
Wherever you choose to ride, keep us updated by posting on social media. Don't forget to tag @stjoespromise and use the hashtag #cycle4stjoes to stay in touch on event day!
More information
If you have any specific questions, do not hesitate to reach out to our Events Officer, Carla Roberto.
Both locations will offer pre-ride drink and snack options to fuel our participants as well as a post ride lunch from west-end's own Woody's Burgers.
I ride for three reasons: for health, for pleasure and to support my community hospital. The hospital was there when I needed it so I will be there to support the hospital's needs too.
- Jackie Stokoe
Enjoy a complimentary pre-ride breakfast and BBQ lunch compliments of Woody's Burgers.
Lots of free parking.
Bike need a tune-up? No problem, we've got you covered.
Receive a free cycling jersey when you raise $500 or more.
Cycle 4 St.Joe's Health and Safety Planning
We are looking forward to welcoming cyclists and our community back to Cycle 4 St. Joe's on Sunday September 26th. We've adapted the event to allow for safe distances apart and to comply with COVID-19 safety protocols.
Events are being held in both Milton and in Toronto along the Lakeshore, right in the St. Joe's neighbourhood!
We are expecting a wonderful day and want to make the events the best and safest possible for all participants.
Due to the ongoing COVID-19 pandemic, we have staggered the starts. All attendees will be required to adhere to the following protocols:
Complete a COVID-19 Screening Questionnaire, ahead of the event or before entering the registration (a QR code will be posted at the entrance)
Maintain two metres physical distancing at all times
Wear masks or face covering when entering any indoor facilities or if staying 2 meters apart is not possible. Masks will be available on site for anyone requiring one.
Wash hands often with soap and water or alcohol-based hand sanitizer
The event will adhere to the capacity limits set out by the Province of Ontario. The Milton event will be entirely outdoors and cyclists will have pre booked start times, which will be staggered. West-end riders will be riding along Lakeshore St. West, which will be closed for ActiveTO, providing plenty of space to ride with safe distances apart.
Refreshments will be individually packaged. There will be no shared or communal food.
Rules of the Road
Please make sure that your bike is in good working order prior to the ride.
Please make sure that you bring a sufficient supply of any medications that you might be taking with you.
Please wear a helmet at ALL points in time during the ride. Please do not wear earbuds during the ride.
Ride to the right-most side of the road where it is safe to ride at all times.
Please ride single-file at all points in time.
Pass ONLY on the left-hand side of another rider.
If you are preparing to pass-by another rider, please announce "On your Left" so as to advise the rider of your pending pass.
Please moderate your speed when approaching an intersection or a turn and keep your hands covering your brake levers.
You are required to obey ALL traffic laws, stop signs and traffic signals at intersections unless instructed otherwise by police.
If you see another rider with an issue, please notify the next police officer or ride marshal that you see on-course.
Please remember this is a fun ride and not a race, all in support of St. Joe's!
All registrants must read the waiver to participate in the ride on September 26th, 2021. Parents or legal guardians, please read with any minors.